Public barred from annual Brighton Christmas Day swim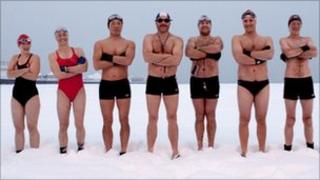 Members of the public were warned not to join Brighton Swimming Club's traditional Christmas Day dip in the English Channel.
Tides of up to 6.7m coupled with strong winds had made conditions too dangerous, Brighton and Hove City Council said.
John Ottoway, head of the swimming club, said the swim would go ahead for members only.
He added: "We don't want the public to follow us. We wouldn't recommend it."
The 350-member strong club has organised the annual swim every year since 1860.
The event was held at 11:00 GMT near Brighton Pier.
Thousands of spectators watched last year as more than 100 people, including club members, braved the chill on Christmas Day.
Fiona Southwell, who is in charge of the club's open sea section, said: "It is right to cancel for the public because of the conditions."
She said the situation had got "out of hand" because members of the public wanted to join in.
She added: "We are all very experienced, seasonal swimmers. We're only going in there to play in the waves."