Conditions threaten annual Brighton Christmas Day swim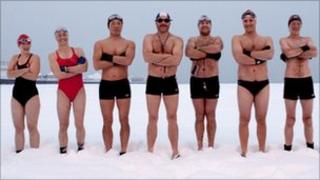 High tides could threaten Brighton Swimming Club's traditional Christmas Day dip in the English Channel.
Predicted tides of about 6.4m coupled with strong winds could make conditions too dangerous.
Fiona Southwell, who is in charge of the club's open sea section, said the forecast "didn't look good".
The 350-strong club, which has organised the annual event since it was founded in 1860, is expected to make a decision at 09:00 GMT.
The event is due to take place near Brighton Pier at 11:00 GMT.
Thousands of spectators watched last year as more than a 100 people, including club members, braved the chill on Christmas Day.
Ms Southwell said: "The weather warning looks pretty rough on all fronts. We won't make our final decision until 9am.
"It doesn't look particularly good. It isn't a place for novices.
"We are not responsible for the general public. It's common sense really. Watch what we do, if Brighton Swimming club don't go in then it's really not swimmable."