Hastings Pier owners given 'last chance' for repairs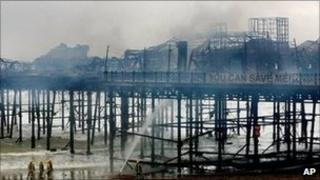 The owner of Hastings Pier has been given a "last chance" to start repair work on the Victorian structure or risk having it taken from its control.
The pier was almost destroyed in an arson attack in October 2010.
Nothing has been done by Panama-registered owner Ravenclaw to restore the pier, says Hastings council.
The borough has tied a repair notice to the pier's gates, warning the owner to start repairs or face a compulsory purchase order.
If an order was granted the pier would be handed over to the Hastings Pier and White Rock Trust (HPWRT), which aims to refurbish the pier with modern attractions.
Councillor Peter Chowney said: "This is the sort of Christmas present the owners deserve.
"They have made no effort whatsoever to repair the pier and now they risk forfeiting it altogether.
"This is their last chance. The notice effectively means that unless work starts within two months then we will carry out a compulsory purchase order and hand the pier to the HPWRT."
Nobody at Ravenclaw could be contacted for comment.
Up to 95% of the pier, which had been closed since 2006, was damaged in the arson attack.
Two men, then aged 18 and 19, were arrested shortly afterwards but the Crown Prosecution Service (CPS) announced in April that there was not enough evidence to bring charges.