Wakehurst Place yew found to date back to Middle Ages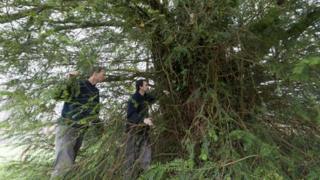 A "humble" yew tree at Kew's country estate has been found to be more than 600 years old by gardeners.
Andy Jackson, who runs Wakehurst Place in West Sussex, said he had walked past the tree nearly every day without realising how old it was.
Wakehurst Place has a 16th Century mansion, but last year an archaeological dig revealed a 14th Century house once stood on the estate.
Further research this year showed the tree dated back to about 1391.
Investigations first revealed a significant line of old yews before tree ring counts showed the date of the oldest tree.
Most of Wakehurst's trees and shrubs date from the 19th and 20th centuries.
'Ancient key'
Mr Jackson said: "I am shocked and amazed. I thought I knew almost all there was to know about Wakehurst's landscape, but it has unveiled a new layer to me.
"I've walked past this remarkably humble tree almost every day without realising just how old it is."
He added: "The yew is like an ancient key, unlocking information about the past and suggesting there was a much older designed landscape at Wakehurst that we didn't know was there."
He said the tree, which has a girth of 20ft, was not the biggest or most dramatic to look at in the gardens and so had not been investigated in the past.
But horticulturists said they now believed there was a relatively large landscaped garden at Wakehurst as early as 1391 and that the tree was planted just after the Peasants' Revolt and the Black Death and while Richard II was on the throne.
Mr Jackson said: "Yew trees have symbolised eternal life for many generations that have preceded us.
"The tree is still going strong and we hope it will remain steadfast long into the future."