Sussex cat home for Christmas after ending up in Wales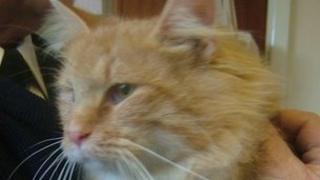 A cat has been reunited with its owner in time for Christmas after going missing from West Sussex in April.
It is thought Banjo climbed into a caravan bound for Wales and travelled 250 miles from her Pulborough home.
Owner Paul Martin said he had given up hope of finding her - but then someone replied to his missing cat advert months after he posted it online.
The RSPCA helped to reunite the pair. Mr Martin said it was a "really lovely Christmas present".
Anti-freeze scare
He said: "After a few weeks of looking for her every night, I just thought she'd gone.
"There was some kind of incident with some anti-freeze poisoning locally and I thought that might have been what got her in the end."
But he said a woman in Ceredigion had seen Banjo living in a field during the summer and eventually took her in.
She later saw the advert that Mr Martin had posted after Banjo first went missing, and contacted him.
Mr Martin sought help from the RSPCA to bring fluffy ginger and white Banjo back home.
When Banjo returned, she was a bit stiff after living rough for months, he said.
But he added: "After about five or six minutes, suddenly she jumped all over me and within 10 to 15 minutes, she was almost back to her old mischief and sitting where she usually sat."
Microchip advice
Mr Martin said that since Banjo's return, he had felt "less stressed" and added: "I'm one of these people who needs an animal I think."
He is now planning to hold an auction to raise money for the RSPCA as a thank you.
The animal welfare charity said reuniting pets with their owners was not a normal service it provided.
But it said because of Mr Martin's obvious worry and and attempts to find his cat, animal collection officer Lyn Davis had made a 500-mile round trip to reunite the pair.
The charity also said Banjo had no microchip or collar.
It advised pet owners to microchip their pets to give them the best chance of being identified and returned if they are stolen or lost.