Stuntman Eddie Kidd in 2012 challenges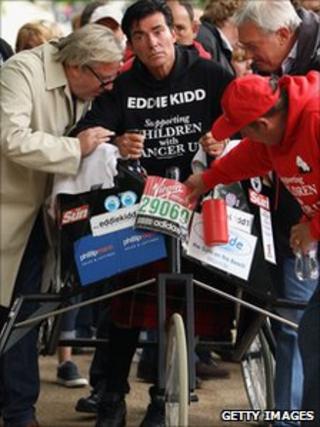 Former daredevil Eddie Kidd's wife described his completion of the London Marathon over 50 days this year as his "greatest feat".
But the stuntman, who suffered serious brain injuries following a crash in 1996, will not be resting on his laurels in 2012.
Plans are already in place for him to renew his vows to wife Sami in the spring.
And he hopes to complete the London to Brighton Bike Ride in June using a specially-adapted bicycle.
Mr Kidd, who lives in Peacehaven, East Sussex, has severely restricted co-ordination and speech, but over the past seven years he has fought to regain some of the mobility he lost.
Earlier this year he completed the London Marathon, walking a mile a day with a specially -dapted frame in aid of the charity Children with Cancer UK.
Mrs Kidd said the task challenged them both more than she expected.
"The marathon was a trial and a triumph," she said.
"A lot of blood, sweat and tears. It challenged Eddie, not just physically, but mentally.
"We both were overwhelmed by the support and generosity of people. We realise how lucky we are."
'Exhausting marathon'
Mr Kidd first stunned spectators in December 1979, when he jumped 80ft (24m) across a derelict railway bridge in Essex on a 400cc Yamaha.
Kidd's achievements culminated in 1993 when he jumped the Great Wall of China and beat Robbie Knievel, son of Evel Knievel, to the stunt bike world championship.
But in 1996 he suffered severe head injuries following a crash at a motorcycle rally in Warwickshire.
His wife said the couple, who first dated 26 years ago, would be renewing their vows in spring.
"The marathon was exhausting, but you realise how much you love each other when you go through something like that," she said.
She added that her husband hoped to complete the London to Brighton Bike Ride this year and aim for the New York Marathon in 2013.
"I keeping saying to him, 'you're a crazy man'," she said.
"He has to keep on having a challenge, to have a goal to work towards. It keeps him going, it's a reason to keep on living."