'Crucial' Bexhill-Hastings link road decision delayed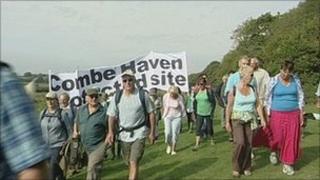 A decision on whether to build a link road between Bexhill and Hastings has been put on hold until 2012.
The Department for Transport (DfT) is giving East Sussex County Council more time to consider alternatives.
Council leader Peter Jones said he was "bitterly disappointed" by the announcement, describing the link as "absolutely crucial" to the regeneration of the area.
However, environmental groups have welcomed the decision.
Plans for the road have been in the pipeline for several years and the council said it had already spent £15m on the project.
'Well advanced'
There has been opposition to the road, which would link the A259 and B2092, crossing Combe Haven Valley near a Site of Special Scientific Interest.
Government funding for the road was initially put on hold by the coalition government in 2010.
Mr Jones said: "Unlike other schemes, the link road is well advanced. It has planning permission, has been through a public inquiry process and there is a contractor ready to start work.
"While disappointed, we will continue to work with the DfT to secure this vital regeneration work for Bexhill and Hastings."
Transport Secretary Justine Greening said she recognised the "critically important role" that transport improvements could play in the regeneration of the Bexhill and Hastings area, but was aware of concerns regarding the environmental impact of the road.
Nick Bingham, chairman of the Hastings Alliance, a campaign group opposing the road, said the decision was a "great opportunity" to develop sustainable transport measures.
He said: "Hastings and Bexhill could become a showcase for sustainable regeneration drawing on best practice from elsewhere in the UK and Europe. The future could be very exciting indeed."