Hostel campaigns after A27 Chichester bypass deaths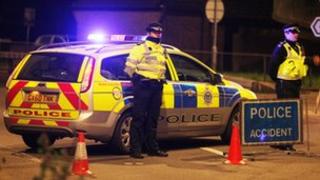 A charity for homeless people in West Sussex is campaigning for better safety measures on the A27 after two clients died in crashes within three days.
Sigitas Juozapaitis, 54, died crossing the Chichester bypass on 2 December. Three days later, Kenneth Sherwood, 39, was fatally injured on the same road.
Stonepillow said it was shocked by the deaths of the men, who were crossing the road to get to St Joseph's hostel.
Sussex Police said fluorescent jackets were being given out to the homeless.
Mr Juozapaitis, a Lithuanian national, and Mr Sherwood were both hit by vehicles while they were crossing the dual carriageway between the Whyke and Stockbridge roundabouts.
'Considerable risk'
Both of the drivers involved were unhurt.
Sgt Tony Crisp said there was an "overspill" encampment of tents on the other side of the A27 used by homeless people who were unable to get into the hostel in Hunston Road.
"They go there in the evenings and have to cross the A27, which is quite hazardous as it is a fast road.
"Especially at this time of year, when it is dark, they present a considerable risk to themselves."
He said there were two footbridges and an underpass to cross the A27 further along the dual carriageway.
Stonepillow, which provides an evening meal, breakfast and accommodation for 10 men and two women, opens the hostel at 19:00 GMT every night.
It also runs a day centre in Chichester city centre.
Fundraiser Dawn Ingram said the charity wanted to see better lighting and warning signs on the A27.
Workers out on a street collection on Monday collected 196 signatures in support of the safety campaign.
Ms Ingram said Stonepillow would continue to collect signatures in a effort to improve safety on the road.