Brighton students occupy university over tuition fees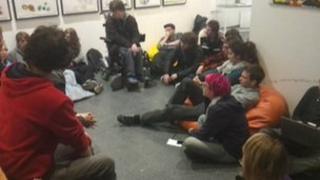 About 30 students from the University of Brighton are occupying the art gallery in protest at government cuts to education and higher tuition fees.
The group, which represents Brighton Students Against Cuts, began their protest on Thursday and said they would stay for the foreseeable future.
One of the students, Jack Poole, said they were fighting for the right for youngsters to have a decent education.
He added: "It's not even about our own education... it's a selfless campaign."
Mr Poole said the occupation of the art gallery on the Grand Parade campus was "to make a democratic point".
Professor Stuart Laing, the University of Brighton's Deputy Vice-Chancellor, said: "We understand the strength of feeling felt by some students over the government's higher education policy but we are disappointed that a small number have decided to express themselves in this way.
"We have received a number of requests from the occupying students and we are continuing to talk to them in an attempt to bring an early end to the protest."
He added the students were cooperating to ensure the campus and the gallery operated as near to normal as possible, and there was only minor disruption.
'Revoke white paper'
Brighton Students Against Cuts said its occupation was part of "the growing global occupy movement".
Its demands include asking senior university managers to publicly condemn the higher education white paper and call for it to be withdrawn; guarantee no course closures and no job cuts; and provide bursaries for all students who need them - not fee waivers.
It is also asking the government to revoke the white paper.
Universities minister David Willetts has said most new students will not pay the higher tuition fees upfront and there will be more financial support for those from poorer families.
He has also said everyone will make lower loan repayments than are currently made once they are in well paid jobs.