Drought-hit Ardingly Reservoir needs more water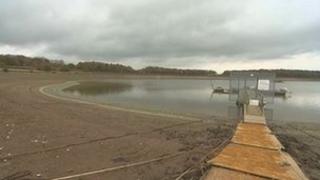 South East Water has applied for a drought order to help refill a reservoir supplying more than 65,000 homes across East and West Sussex.
The levels of usable water at Ardingly Reservoir are at 12% after the drought affecting parts of England since June.
The company has asked the Department for Environment, Food and Rural Affairs to allow it to increase the amount of water it extracts from the River Ouse.
It says it will ensure any impact on the river is minimised.
Lee Dance, from South East Water, said: "Faced with a worsening drought situation, and with no sign of significant rainfall and customer demand for water continuing, it is vital we take immediate steps to protect Ardingly Reservoir and our customers' water supplies."
Efficiency measures
Without any rainfall, there is two months' worth of usable water left in the reservoir, the water company said.
The government has warned the drought could continue until the summer if the country suffers a dry winter.
Environment Secretary Caroline Spelman said water companies and the public needed to plan now for a potential drought in 2012.
The Environment Agency said the south east of England was at a high risk of drought. The agency said the region, along with central and eastern England, was unlikely to see a full recovery in 2012.
South East Water has written to households supplied by both Ardingly and Arlington Reservoir in Sussex to encourage customers to help make a positive impact on the region's water resources by taking water efficiency measures at home and work.