Thousands take part in Brighton pension strike protest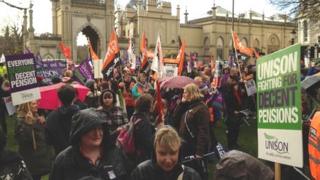 Up to 6,000 people have marched through Brighton as part of a national strike over proposed pension changes.
The march left Victoria Gardens at 11:45 GMT and headed to The Level where speeches were made.
Marchers used umbrellas to stop police officers taking pictures of protesters, according to BBC reporter Nick Tarver, who followed the march in Brighton.
The government said it was "unfair and unrealistic" for taxpayers to foot the rising public sector pension bill.
Sussex Police said the march in Brighton had been largely peaceful except when a group of 30 protesters who tried to leave the planned route and enter Churchill Square.
A force spokesman said a 34-year-old man was arrested on suspicion of disorderly behaviour.
Elsewhere, about 200 people took part in marches in Horsham and Hastings while 300 people protested through Worthing and Eastbourne.
'Fully staffed'
South East Coast Ambulance Service said it was responding to all 999 calls but urged the public to only call if necessary.
UK Border Agency staff at Gatwick Airport and teaching staff were among those taking action, with many schools closed or partially shut.
Gatwick Airport had earlier warned travellers to be prepared for "significant disruption" but said passengers had gone through border controls "as normal".
Brighton and Sussex University Hospitals NHS Trust said 300 out of 8,000 employees were on strike.
A spokesman said no planned operations had been cancelled but there had been "slight disruption" to out-patients.
East Sussex Healthcare NHS Trust said the strike had had "minimal impact" with no cancelled operations. A spokesman said 100 out of 7,500 employees were on strike.
School closures
About 300 schools out of a total of 530 in Sussex were closed or were partially shut.
The 10 unions taking action include Unison, Unite, the GMB and several teaching unions.
University of Brighton, principal lecturer in philosophy, Tom Hickey, said: "This is not a protest, this is a campaign and we intend to win.
"This is an attack on our lives and everyone is united that the government is not going to steal our pensions to pay for a bankers' crisis."
More than two million public sector workers across the UK walked out over proposed pension changes.
Unions object to government plans to make their members pay more and work longer to earn their pensions.
The government said it was trying to make the pension situation fairer for taxpayers and the plans represented a "good offer".