Campaign critical of Gatwick plan to increase flights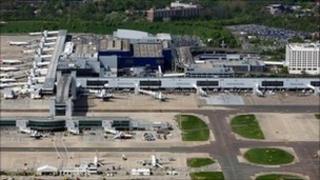 Residents living near Gatwick Airport have dismissed a draft plan aimed at increasing the number of flights by 44,000 a year as "invalid".
The Gatwick Area Conservation Campaign (GACC) claims the draft plan does not highlight an increase in noise.
The owners of the airport want to increase the number of flights by 2020, claiming it will bring economic benefits.
A spokesman said there had been "no attempt" to conceal the noise impact.
Gatwick's owners, the US-based investment fund Global Infrastructure Partners (GIP), launched a three-month consultation on the draft master plan.
'Quieter aircraft'
Peter Barclay, from GACC, said: "We do feel that the aircraft noise factor has been concealed.
"We think they're being disingenuous in the way they've presented it.
"In addition the noise contour will expand, yet previously they stated that the noise would not increase."
He said the draft plan refers to an average increase in noise levels of one decibel.
The government has ruled out the construction of a second runway at Gatwick.
GPP hopes to increase the number of flights in a variety of ways, including making better use of the existing infrastructure and increasing the number of night flights.
A spokesman said: "It is worth pointing out that the number of people impacted by noise in 2020 will be at a similar level that it was in 2007.
"What this means is that we envisage that by 2020 there will be a greater number of larger and quieter aircraft operating from Gatwick."
The consultation finishes on 13 January.