A27 Lewes crash: Seven injured in four-car collision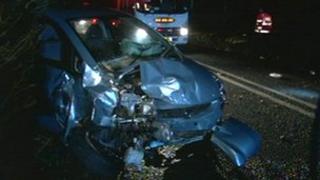 Seven people have been injured - two seriously - in a four-vehicle crash in Sussex.
The vehicles collided on the A27 near Lewes at about 15:30 GMT on Wednesday.
A Honda travelling east collided with a Vauxhall and Skoda going west. The Vauxhall then collided with a Mazda travelling east.
A 72-year-old woman passenger in the Honda has life-threatening injuries and the 80-year-old driver suffered serious chest injuries.
The other people in the Honda, who were all from Eastbourne - an 83-year-old woman and 74-year old man - were treated in hospital for minor injuries.
A 55-year old man from Horsham, driving the Vauxhall, was treated for slight neck injuries.
The Mazda driver, a 60-year old St Leonards man, sustained minor injuries and the 47-year old woman driving the Skoda was treated at hospital for minor injuries.
There was major disruption to traffic and the A27 remained closed in both directions until 23:30 GMT.