Lewes parking meters blown up by vandals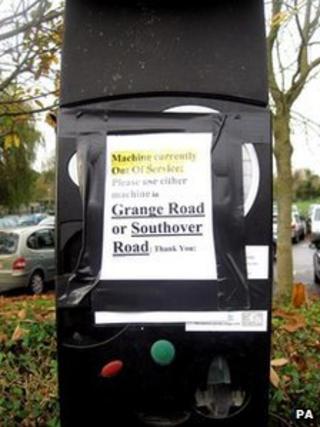 Vandals blowing up parking meters with explosives are putting people's lives at risk, East Sussex County Council has said.
Fifteen attacks have been carried out on 14 meters in Lewes in three months with the most recent attack on Monday.
Councillor Carl Maynard said such acts could seriously injure a passer-by.
Police are investigating whether the attacks are linked to a previous spate of attacks between 2004 and 2006 in which some 200 meters were damaged.
Fireworks were used in many of the explosions. The authorities have said in the past that the attacks were thought to be by someone with "a gripe" against parking rules.
The vandalism started after Lewes council introduced on-street parking charges following complaints of congestion in the narrow streets of the market town.
Lewes is famous for its Bonfire Night parades on 5 November.
'Mindless crime'
East Sussex council, Lewes council and Sussex Police have offered a £1,250 reward for information leading to an arrest and conviction over the latest incidents.
Ch Insp Natalie Moloney, Lewes district police commander, said: "I can't believe anyone would be so reckless as to carry out such potentially dangerous acts.
"I'm amazed someone hasn't been injured."
Ch Insp Moloney added: "This is a serious spree of costly vandalism and we are determined to find out who is responsible."
Mr Maynard said repairs would cost at least £20,000 and added: "Whoever committed this mindless crime should know they risk jail."
'Completely destroyed'
Lewes District Council leader Tony Nicholson said: "We fully support the police in their call for information.
"This vandalism is dangerous and we do not want to see anyone hurt as a result of thoughtless action."
Each of the meters is worth about £3,000. Five were in car parks run by Lewes District Council - Phoenix Causeway West, Phoenix Causeway East, Cliffe High Street and Friars Walk.
Six machines were blown up during one weekend in November.
The first new attack came on 16 September when explosives were placed inside a machine in Grange Road. The latest incident was at White Hill.
One machine in Southover High Street was nearly destroyed and will be replaced, but the others have been repaired.
The other incidents were in Castle Precincts, Southover Road, Court Road, Nevill Road and Malling Street.