PM critical of council's planned tax rise in Brighton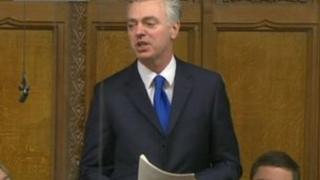 David Cameron has called Brighton and Hove City Council's plans to increase council tax a "huge mistake".
The Green-run council has rejected the government's proposal to freeze council tax and instead will seek to raise it by 3.5%.
The issue was raised during Prime Minister's Questions by Conservative MP Simon Kirby.
However, Jason Kitcat, the Greens' cabinet member for finance, called the tax freeze a "short-term gimmick".
Mr Kirby, who represents Brighton Kemptown and Peacehaven, asked the prime minister whether he was "astounded" the council was planning to decline £3m of government money, which would be provided if the authority freezes council tax.
Mr Cameron responded that the decision was for individual councils to make.
"If they want the money for the council tax freeze... the money is there," he said.
"But if they reject it, as they plan to do in Brighton, I think that's a huge mistake because they will be asking families in Brighton to pay more at time they should be on their side."
Mr Kitcat said the minority administration in Brighton and Hove would vote on the tax rise in March.
"We think the council tax freeze is a short-term gimmick that will cost the council and taxpayers more in the long run," he said.
"If we accepted it would end up costing the council £4.2m over two years.
"We recognise that the council tax is an imperfect system, but we believe the people in Brighton and Hove value and prioritise public services."