Selsey sea defence project gets under way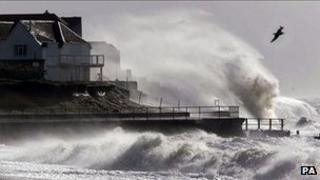 Work has begun on a £15m flood defence scheme in West Sussex to protect a town hit by major flooding three years ago.
The Environment Agency (EA) said it was increasingly difficult to maintain the existing shingle defences at Selsey Bill, which were breached in 2008.
The four-mile long defences, protecting 300 homes, will be built further inland and will also create new wetland habitat for wildlife.
"It has taken us a long time to get where we are," said an EA spokesman.
"We have worked very, very closely with the local community to develop a scheme which will provide significantly improved protection to the west of Selsey."
He said the main road in and out of the town and the waste water treatment works would also be protected from flooding.
A beachfront campsite, which has more than 2,000 static caravans, had to be evacuated during the 2008 storms.
The EA said the Medmerry shingle bank was one of the stretches of coast most at risk of flooding in southern England and needed expensive maintenance each winter.
It is likely to become more vulnerable with climate change and rising sea levels.
The flood defence scheme will be completed early in 2013.
Selsey town councillor Ben Cooper said residents were concerned about the new scheme at first.
"It is putting water where there is no water at the moment," he said.
"But the alternative, of not having a scheme there, is not worth considering so we are pleased it has got funding in the current climate.
"Selsey is a town of 10,000 permanent inhabitants, going up to 20,000 in the summer, so it is worth it.
"The caravan site is worth £50m to the local economy so that is very important to us."