Sea defences work to protect Selsey homes under way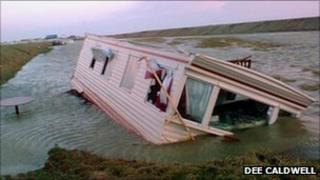 Work has begun on a £15m sea defence project in West Sussex which will protect over 300 homes in Selsey.
Over 7km (4 miles) of sea defences will be built along the Medmerry coast which is one of the coastlines at most risk of flooding in southern England.
The shingle bank at Medmerry requires expensive maintenance each winter and is not able to prevent coastal flooding during major storms.
A large area was flooded by severe storms in March 2008.
'Shaping the way'
The sea defences will be situated further inland than the existing shingle bank.
Andrew Gilham, from the Environment Agency, said: "I am very pleased that work has now started to provide long-term flood protection to this vulnerable stretch of coastline.
"Input from the community has been invaluable in shaping the way in which the project will be delivered as well as their enthusiasm on the added environmental benefits it will bring to the area."
The scheme will include public footpaths, cycle paths and bridleways, plus two small car parks and four viewpoints.
Sections of the beach will be closed at times for delivery of rock which will arrive by boat in early December 2011 and January 2012.
The project is expected to completed in Spring 2013.