Sussex Police criticised over Facebook riot trial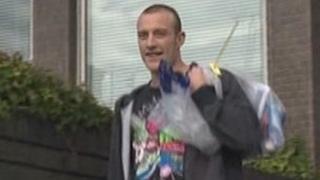 The family of a man from East Sussex cleared of using Facebook to incite looting during this summer's riots has accused the police of over-reacting.
Nathan Sinden, of St Leonards, wrote "Let's start a riot in Hastings. Who's on it?" but jurors at Hove Crown Court on Thursday accepted he was joking.
His stepfather, Terry Hewlett, said Mr Sinden, 27, had been an "idiot" but the police investigation was unnecessary.
Sussex Police said any allegations of incitement would be investigated.
Jurors at Mr Sinden's two-day trial were told the defendant, who had previous convictions for theft, criminal damage and violence and disorder, also wrote: "Looting it is then today. Who's up for shopping?"
'He's an idiot'
But he insisted he was joking and a jury took just 30 minutes to find him not guilty of intentionally encouraging or assisting the commission of burglary.
Mr Hewlett said: "He's an idiot, he's certainly not an angel, but all [the police] did was look at his previous, put two and two together and make six.
"I don't know what this has cost the taxpayer but if they had done their job properly it could have saved us all money."
In a statement, Sussex Police said the force respected the verdict of the court.
"The case has highlighted the use of social media sites during times of public disorder and any incidences of incitement will be robustly investigated by police and prosecuted through the courts," it read.
Conservative MP for Hastings, Amber Rudd, said the nationwide riots had been "very worrying" and police were right to investigate.
She said: "There are some places you don't make a joke because the consequences are so serious, so I think the police did the right thing."
A spokeswoman for the Crown Prosecution Service said it decided there was "sufficient evidence" to charge Mr Sinden.
She said: "The jury listened to the evidence and made their decision and we respect that."