Nathan Sinden cleared over Facebook riot posts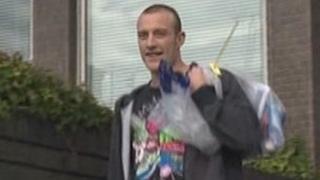 A man accused of posting messages on Facebook to incite looting at the height of this summer's riots has been cleared.
Nathan Sinden, 27, of St Leonards, East Sussex, had denied intentionally encouraging or assisting the commission of burglary, at Hove Crown Court.
It is claimed Mr Sinden wrote: "Let's start a riot in Hastings. Who's on it?"
Jurors heard Mr Sinden told police in interview that he was "joking" and had not intended to incite trouble.
His friend Clinton Smith told the court "I took it as a joke straight away" but prosecutors claimed Mr Sinden was not joking.
'Banter among friends'
Jurors were told shops closed early in Hastings and large numbers of police were deployed on 9 August, because of Mr Sinden's postings and those of others on Facebook.
Prosecutor Gabby Henty told the court the issue was whether he was making a joke or whether he intended to encourage crime.
Jurors were told Mr Sinden also wrote: "Looting it is then today. Who's up for shopping?" and then wrote "Town on lockdown. LOL".
Mr Smith, who works as a part-time graphic designer and supermarket worker, said: "I thought he was being ironic.
"When I added my comment, 'Yeah, I'm going straight down to Poundland', I was also being ironic. I thought people would find it funny.
"I don't believe anyone would act on it. It was literally pure joking - banter among friends.
"Maybe my humour is not to everyone's taste but it was intended as a joke."
During a private chat on the social network site Mr Sinden confirmed to a friend he meant his comments as a joke.
The court also heard he told officers after he was arrested: "You don't expect to believe everything you read on Facebook."
Judge David Rennie urged jurors, who heard Mr Sinden had previous convictions for theft, criminal damage and violence and disorder, to cast aside any personal feelings about the riots and approach their deliberations in a "cold and clinical" way.
Outside the court, Mr Sinden's stepfather, Terry Hewlett, said: "He didn't think of the consequences but then a lot of people do that on Facebook. You might as well stand on the street and yell it out."