Rare filmy fern at Nymans estate 'stolen by collector'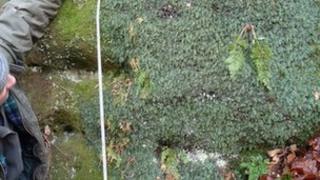 One of the UK's rarest plants has disappeared from a site in West Sussex, prompting an investigation.
The National Trust said the colony of Tunbridge filmy fern was removed from its Nymans estate near Handcross.
The trust, which is working alongside Sussex Police to investigate the disappearance, said it may have been stolen by a collector.
Chloe Bradbrooke, a ranger at Nymans, said: "The loss of this fern has been a hammer blow to all our staff."
She added: "We are all hoping that if the plants have been stolen by a collector, someone will see sense and return them to their natural home before it is too late.
'Extremely rare'
"The disappearance of this delicate but hugely important plant has upset us all."
The colony at Nymans is believed to be hundreds of years old and is one of the main reasons why it is a designated Site of Special Scientific Interest.
The National Trust and Natural England had recently completed a five-year project to improve the fern's habitat.
Carole Mortimer, a regulation adviser with Natural England, said: 'It is one of Britain's rarest plants and the tiniest of ferns.
"We can only hope that it may yet be possible to salvage what remains of this extremely rare species, which is likely to perish quickly in the wider countryside."