Plans for King Edward VII hospital site approved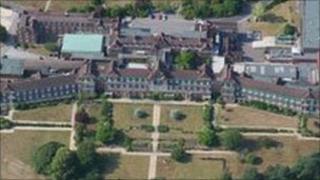 Plans to develop the site of a former hospital in West Sussex have been conditionally approved.
The King Edward VII Hospital near Midhurst was built in 1906 as a TB sanatorium and closed in 2006.
Around 330 homes, sheltered housing for 79 people, a swimming pool, cafe and shop are planned for the 50-hectare (124 acre) site.
The conditions, yet to be finalised, include a ban on keeping cats - to help protect a nearby wildlife habitat.
The South Downs National Park Authority imposed the conditions to help preserve ground-nesting birds on the Woolbeding and Pound Common which borders the site.
Under the application, existing bat roosts in the chapel and lodge will be retained under licence from Natural England.
Modern extensions to the original Grade II* listed hospital buildings will be demolished as part of the development.