Dumo Sibanda house fire murder: George Sithole jailed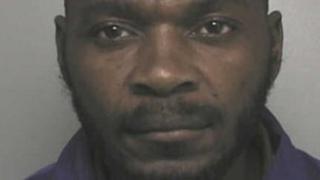 A "jealous and possessive" man has been jailed for life for murdering a six-year-old girl who died in a Sussex house fire seven years ago.
George Sithole, 41, started the blaze which killed Dumo Sibanda after being upset that his relationship with a friend of her family had ended.
A judge at Lewes Crown Court said he would serve a minimum of 17 years.
Firefighters found Dumo unconscious in her bedroom in Crawley. She was pronounced dead at hospital.
'Wicked and jealous'
Sithole fled the UK that year to his native South Africa. He was extradited on 16 March this year.
Following the sentencing, Dumo's parents, Sindi and Donald Sibanda, said Sithole's lack of remorse or account for his actions were a "further insult" to them.
The court heard that Sithole had been in a relationship with Siphenphile Mercy Mlalazi, known as Mercy.
On the night of the fire, Ms Mlalazi was looking after Dumo because her mother was in Newcastle training to be a nurse.
In the hours and weeks before the fire, Sithole accused Ms Mlalazi of cheating on him and bombarded her with calls and text messages.
After buying petrol and matches, he went straight to the semi-detached house in Banks Road, Pound Hill.
Within minutes, flames engulfed the house, forcing Ms Mlalazi and Mr Sibanda to jump out of their separate bedroom windows at the front.
After the fire had started, Mr Sibanda rushed into Dumo's room but could not find her because of the smoke.
He went back to his bedroom and jumped out, thinking he would then try to rescue his daughter from outside by climbing up to her window.
As the fire raged in the early hours of October 26 2004, Sithole stood outside the house and even sought to comfort the distraught Mr Sibanda.
A paramedic said Sithole looked "dumb-struck and wide-eyed but was not showing any emotion".
He denied starting the fire but jurors convicted him of murder after two hours of deliberation.
Sentencing him, Judge Richard Brown told Sithole: "I don't think I have ever heard such a pathetic attempt by a defendant to lie their way out of responsibility.
"Your wicked, jealous and criminal behaviour in 2004 cost little Dumo her life and has destroyed the lives of her parents and her family."
In a statement issued through Sussex Police, Dumo's parents said: "The loss of Dumo has had a huge and lasting impact on us.
"George Sithole was selfish enough not to deal with the consequences of his actions at the time.
"He has not once shown any contrition or remorse for his actions, and the fact that he continues to deny the offence is a further insult to us."