Brighton residents feel unsafe in St James Street area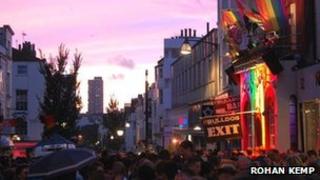 Ninety-five percent of people feel unsafe at night in one of Brighton's busiest streets, according to a report.
The research commissioned by Brighton & Hove City Council, involved 674 local people across eight areas of the city.
Results showed St James Street was a major concern and problem area for people, especially at night.
"Street drinking, derelict buildings, rubbish everywhere, it all goes together to make the place feel dangerous," said one resident.
Councillor Ben Duncan said: "Anyone who knows the street will know that it is a vibrant street with loads of guest houses and tourist attractions nearby.
"Lots of tourists and shoppers go there all the time. It isn't a no-go area but that is not to say there are not very real problems there."
'Longer term solutions'
One of the main problems for local people is street drinking and begging.
Mr Duncan said: "If police intervene with people who are drinking on St James Street and causing anti-social behaviour, most people will quite often just go somewhere else and the problem goes somewhere else in the city.
"What we really need to do is to find longer term solutions by getting the street population into health treatments and sorting the homelessness problem by building more affordable housing and these are all things the council are doing."
Chris Cooke, chair of St James's Area Local Action Team, believes that people feel the area is unsafe because of the way it looks.
"Dirty streets, empty shops, run-down buildings and dark streets all contribute to this perception that it's unsafe and a potential a no-go zone for people," he said.
"We are working with council officers and local police to put in place improvements to make St James's a better area."