Care of two patients at Sussex hospitals 'neglected'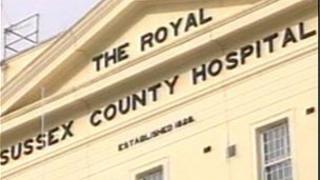 The "shameful" care of two elderly female patients at separate hospitals in Sussex has been highlighted in a report by the Patients Association.
An 82-year-old woman admitted to the Royal Sussex County Hospital, in Brighton, was left with little to eat or drink.
And the pain relief needs of a 94-year-old woman at St Richard's Hospital, Chichester, were misinterpreted.
Both hospitals said they had investigated the complaints.
In the case of Joyce Jones, 82, who was admitted to the Royal Sussex County Hospital last December after falling over, her daughter Liz Owen said nurses did not record her mother's fluid levels and simple tasks, such as washing, were neglected.
Duncan Selbie, chief executive of Brighton and Sussex University Hospitals NHS Trust, said he had "personally apologised" to Ms Owen for "our failings in the care her mother received and since then her story has been shared with all the staff involved".
The daughter of the 94-year-old admitted to St Richard's Hospital, known as Patient B, said "staff misinterpreted her mother's pain relief needs, often failed to keep her mother warm and did not listen when she raised her concerns".
Cathy Stone, director of nursing and patient safety at Western Sussex Hospitals NHS Trust, said: "All of the complaints made in this case were extensively investigated at the time.
"The findings were shared with the family at the time and we have always been prepared to meet with them should they wish."