'Keep Klear' East Preston fire station sign repainted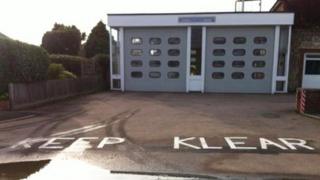 Road markings outside a West Sussex fire station have been repainted after the word "clear" was spelt incorrectly.
Motorists were advised to "keep klear" of East Preston fire station.
Southern Gas Networks said the sign was first painted on Wednesday and then corrected on Thursday afternoon.
A spokeswoman said: "The work was carried out by one of our contractors. They were made aware of the error and have since corrected it."
Contractors had been carrying out works on the road outside the fire station.
"This serves as a reminder to all our staff to double-check their work," the Southern Gas spokeswoman added.
A West Sussex Fire and Rescue spokeswoman said the erroneous spelling had been brought to their attention via Facebook.