London 2012: Olympic torch to visit Battle Abbey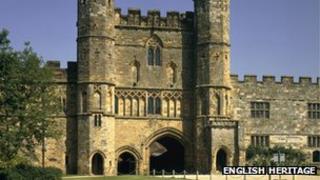 Famous landmarks, including Battle Abbey, will be visited by the Olympic torch when it passes through Sussex in July 2012.
The torch will arrive in West Sussex on 16 July at Rogate and the day will finish in Brighton and Hove.
On 17 July the torchbearers will carry the flame to Hastings via Crawley and Lewes and pass Petworth House.
The following day, en route to Dover, the relay will go through Rye and visit Battle Abbey.
Michael Murray-Fennell, from English Heritage, said: "This is fantastic news and we are delighted to welcome the Olympic torch to Battle Abbey, built to commemorate the most famous date in English history.
"The torch relay is a wonderful opportunity to show the world the special historic places that are waiting to be discovered."
Organisers said 95% of the population would be within a one-hour journey time of the torch relay, which will be carried by 8,000 bearers on its 8,000-mile journey around the UK.
East Sussex County Council's leader Peter Jones said: "This gives the whole community a chance to share in the Olympic spirit.
"It will also give us an opportunity to support members of the community who have been chosen to run with the Olympic Flame."
Each of the 8,000 torches, one for each bearer, will be made of two aluminium skins, with laser-cut holes.
The torch will end up at the Olympic Stadium on 27 July when the lighting of the cauldron at the opening ceremony will signify the start of the London Games.