Crawley Town Football club unveils new stand plans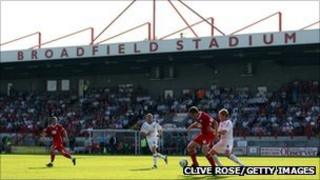 Plans for a new stand to increase attendance at Crawley Town FC have been unveiled.
The club is proposing to build a replacement East Stand, which would increase capacity at the stadium by over 2,000 seats.
The plans include new turnstile blocks, toilets and concession areas as well as improved floodlighting.
Currently the club, promoted to the Football League last season, has a nearly 5,000 capacity, with 897 seats.
If planning permission is granted work should be finished by February 2012.
Alan Williams, chief executive said: "This is the biggest project at the stadium since it was built and we want to liaise as much as we can with our own supporters and local residents about what we are planning to do."
After promotion to the league for the first time, the qualification criteria for the club means the Broadfield stadium must be able to accommodate 5,000 fans with 2,000 seats.
The criteria must be satisfied by 1 May in the third season, following entry to the league.