Hastings misses out on Regional Growth Fund money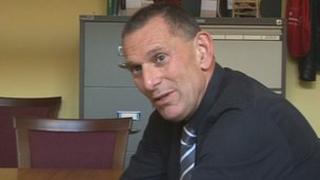 A decision not to award £7m of regeneration money to Hastings will cost 700 jobs, according to the council leader.
Jeremy Birch said Hastings Borough Council had been unsuccessful in both rounds of bidding for the Regional Growth Fund cash.
He claimed the government had "forgotten" about Hastings.
However, the Department of Business, Innovation and Skills, said bidding was competitive and independent.
There was £950m available to bidders and Kent County Council, which is one of 119 successful bids, has been awarded £40m.
'Oil tanker'
"We were very disappointed," said Mr Birch.
"If you're trying to revive a town it's like turning an oil tanker around, it doesn't happen in a day, a week or a year. You need a period of time.
"And we think we still need to maintain the momentum of regeneration despite the resources we have and the improvements we've seen."
He added the council had hoped to use the money to bring another significant employer to town after recently attracting Saga and 700 jobs.
A spokeswoman for the Department of Business and Skills said: "It's a competitive fund and all of the bids are assessed fairly by an independent panel against a criteria of creating jobs in areas dependent on the public sector."