Anti-capitalist protest camp sets up in Brighton park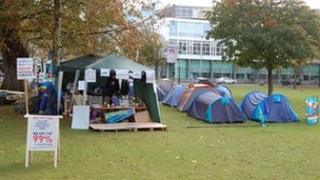 An anti-capitalist demonstration inspired by the protests outside St Paul's Cathedral has taken root in a Brighton park.
Protestors have set up camp in the city's Victoria Gardens, claiming world leaders are not addressing problems with the global economy.
Ben Duncan, member and Brighton and Hove City Council's cabinet member for communities, said the authority was not looking to evict the protesters.
So far 17 tents have been pitched.
'Clear criteria'
"I'm really pleased that people have responded positively to what they've been doing," said Mr Duncan, a Green Party councillor.
"We've got some really clear criteria that we want to put in place before we start thinking about evicting people from this site.
"If there's any sniff that there's an increased chance of crime and disorder from this or creating a significant impediments to people going about their every day business, then we might change our view.
"But at the moment none of that has happened."