University of Chichester unveils restored stained glass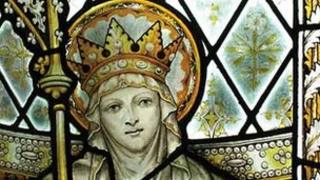 Three stained glass windows that were commissioned in the early 1900s and recently restored have been unveiled at the University of Chichester.
All show female saints that were chosen as appropriate role models for students in a women's teacher training college.
They were among a series of windows commissioned between 1900 and 1915 when the university in West Sussex was known as Bishop Otter College.
The windows can be seen in the Cloister's corridor in the Old Chapel.
St Hilda tribute
They have been installed alongside three other windows that were restored in the 1980s.
Horsham glassmaker Clifford Durant, a specialist in Victorian stained glass, supervised the restoration work.
The windows include an image of St Hilda, a 7th Century abbess, who was famed for her wisdom and her teaching.
St Hilda was chosen as a tribute by the students to Sarah Trevor, who became the college's first female principal in 1873, when the Bishop Otter reopened as one of the country's first colleges to train women in teaching.