DJ Fatboy Slim in first Brighton Amex stadium concert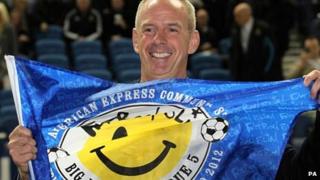 DJ Fatboy Slim will be the first artist to hold a concert at Brighton's new Amex stadium, it has been announced.
The lifelong fan of Brighton and Hove Albion Football Club will host a weekend of dance music next June at the club's ground in Falmer.
In 2008, he played to a crowd of 20,000 on Brighton seafront during his beach party, Big Beach Boutique 4.
Fatboy, aka Hove resident Norman Cook, made the announcement at Monday's game against West Ham United at the stadium.
'Crest of a wave'
The club moved into the new stadium earlier this year, ending 14 years of nomadic existence.
Since leaving the Goldstone Ground in 1997, the club had been without a permanent home.
The new stadium was built after a six-year planning row that included a High Court challenge and two public inquiries.
Mr Cook said: "The club's been through so much and right now we're on about the biggest high that I can remember.
"On the crest of that wave, for me to go in and play a gig in our shiny new stadium is the biggest honour of my life."
'Total celebration'
He said former club chairman Dick Knight had always promised him the opening gig during the planning campaign - when club supporters were marching and petitioning and visiting Downing Street - and current chairman Tony Bloom had the same vision.
Mr Cook said: "There is a slight pressure, because it is the first gig, that it's got to be good because the Amex could be a venue for major shows.
"There's nothing in Sussex bigger than the Brighton Centre.
"A lot of the big bands just leave us out on the tours, so I'm kind of flying the flag and if it goes well, the Amex will become a venue for big acts to come to."
He added: "It will be total celebration of my relationship with Brighton, the city, the parties we've done on the beach, but also a celebration for all Albion fans, that we've got this lovely stadium.
"It's a chance for people who don't like football to come and see what a beautiful stadium it is and it is just a total celebration - it's just like 10 of your best mates weddings all rolled into one."
Big Beach Boutique 5 will be held at the stadium on 1 and 2 June next year.