Brothers 'started fatal den fire' in Eastbourne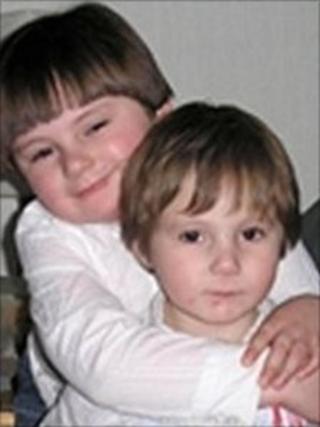 Verdicts of misadventure have been returned at an inquest into the deaths of two brothers in a fire which swept through a makeshift den at their home.
Lewis Jenkins, seven, and his brother Taylor, five, are believed to have started the fire in a camp under the stairs in Milfoil Drive, Eastbourne.
Coroner Alan Craze said the inquest had heard ample evidence of poor parenting but this did not amount to neglect.
It came nowhere near "unlawful killing", he told the court.
Investigators told the three-day inquest it was likely the boys, who had access to disposable lighters and matches, started the blaze.
The youngsters' mother Denise Goldsmith said Taylor was "absolutely obsessed" with fire and recalled him setting paper alight in his bedroom at the family's home.
The inquest heard that 14 disposable lighters were found at the house, along with matches and tea light candles.
An aerosol can was also found at the hideout, made with duvets, sheets and a clothes airer.
But on Thursday, John Greenwood, the head teacher at their school, said teachers had seen no evidence the boys had a "predilection for fire".
Ms Goldsmith, who had spilt from the boys' father, Stewart Jenkins, who was in prison, was said to be "devastated" by their deaths.
'Harrowing case'
The fire started at 15:00 BST on 4 October 2008, and Ms Goldsmith was found to be one and half times the drink-drive limit an hour and half later.
She had been drunk hours earlier and admitted to the inquest she was not in a fit state to look after the boys.
The school, Shinewater Primary, referred the boys to social services in January 2008 following concerns surrounding their mother Denise Goldsmith's drinking.
A social worker was allocated to them in July but three months later the boys died in the fire.
A post-mortem examination found they both died from smoke inhalation.
Ms Goldsmith was arrested on suspicion of manslaughter and neglect of the children but it was later decided she would not face prosecution.
Mr Craze said it was a "harrowing case" and he considered but ruled out recording verdicts that their deaths were contributed to by neglect.
"There is, in my view, ample evidence of parenting failure and it's a sad fact that they were left entirely to their own devices.
"But I don't consider that the evidence discloses conduct on the part of the mother that would justify a conclusion that they were denied the basic necessities for life."
Mr Craze said he thought the school, social services and other agencies could not have done anything else for the boys.