Saltdean Lido 'at risk' listing welcomed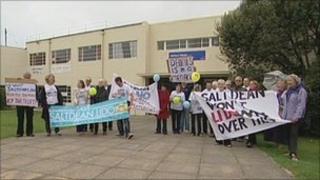 Campaigners who want to safeguard the future of a historic Sussex swimming pool have welcomed its inclusion on the English Heritage "at risk" register.
Saltdean Lido is among three buildings in Sussex added to the register.
"It is not a huge surprise because the building is in a really poor state of disrepair," said Rebecca Crook, who chairs the Save Saltdean Lido Campaign.
"It is brilliant that English Heritage have recognised the building needs serious attention."
A 2,500 signature petition was being handed to Brighton and Hove City Council on Thursday ahead of a debate on the lido.
The full council was expected to refer the petition to its culture, recreation and tourism committee.
'Renewed pressure'
Ms Crook said the English Heritage listing was a "double-edged sword".
"It is quite embarrassing that it is a council-owned building that has been permitted to get in this condition," she said.
"We are hoping this will put renewed pressure on the council to address the issue at the lido.
"The community want to take over this building and operate it as a community interest company."
Dennis Audley, who has leased Saltdean Lido from the council since 1997, has said he wants to turn it into an all-year leisure facility and build flats and new facilities including a library.
Brighton and Hove City Council has said it is seeking to ensure the terms of the lido lease are complied with and that the building is sound.
The two other Sussex buildings added to English Heritage's at risk register for 2011 are Castle Goring in Worthing and the chapel at the former King Edward VII Hospital at Easebourne.