New clues in Bolney headless body inquiry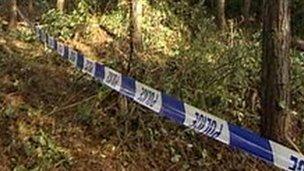 Detectives investigating the murder of a man whose headless body was found in West Sussex 20 years ago believe he was from southern Germany.
The body, which also had missing hands, was discovered in woods off Broxmead Lane, Bolney on 11 October 1991 but the man's identity is still unknown.
He was dressed in a blue shirt with a motif on the pocket, and trousers.
Det Supt Andy Griffiths said evidence gathered in the last year showed that the body was dressed after death.
"This is still an unresolved murder investigation and we will follow up any new lines of inquiry," he said.
"Progress is often slow in cases like this but information we have gathered now leads us to believe the clothes belonged to someone else.
"We are also continuing to focus our inquiries in southern Germany and working with colleagues from police forces in that area."
The body was buried in Western Road Cemetery, Haywards Heath in 1994 but exhumed in 2009 in the hope that scientific advances would provide a breakthrough.
New forensic technique were used to examine a femur, rib bone and toenails, which revealed the victim came from an area of southern Germany or the surrounding countries.
A fresh appeal for information was made on BBC TV's Crimewatch and Sussex detectives also appeared on German TV.
The murder victim, who was white, was circumcised and had a small distinguishing star-shaped mole on his right thigh.
The second examination of the remains also revealed he was but most likely in his mid to late 30s when he died.
He was approximately 5ft 6in to 5ft 8in and was strongly built on his upper body.
Related Internet Links
The BBC is not responsible for the content of external sites.