Beachy Head lighthouse paint campaign receives boost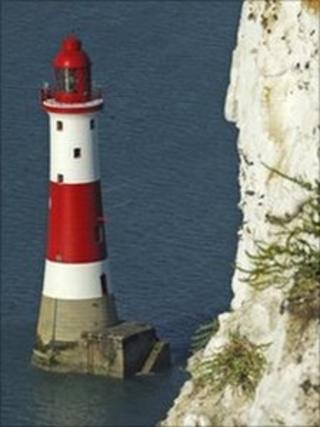 A campaign to keep the Beachy Head lighthouse in Sussex in its traditional colours has received a boost.
Owners Trinity House said the hallmark red and white stripes were no longer required as ships now used satellites.
A Facebook campaign, the Rotary Club and the Eastbourne Herald newspaper have joined forces to raise money to keep the stripes.
Trinity House has said if they can raise £20,000 towards the cost of a repaint, the work can go ahead.
More than 2,200 people have joined the Facebook group called Save the Stripes.
Shirley Moth, from the campaign, said: "I feel that as the lighthouse is such an iconic building for Sussex with it's distinctive red and white stripes that it wasn't an option to let it fade to grey.
"It features on so many logos for businesses and groups within the area and is known throughout the world having featured on postcards and calendars.
"I've had very positive contact with Trinity House and fully understand their position and they are going to work very closely with our campaign."
'Former glory'
Although many people have offered to paint the lighthouse, campaigners have been told the repaint would need to be carried out by a specialist company for health and safety reasons.
Martin Welling, from the AM Rotary Club, said: "It is great that so many people feel the same way and have offered their support.
"Beachy Head lighthouse is as much an icon of Eastbourne as the pier and seafront and leaving the paintwork to decay makes as much sense as letting the pier rot."
Leader of Eastbourne Borough Council, Councillor David Tutt said that the council fully supported the campaign.
He said: "I'm delighted that so many groups and individuals are taking an active role in the campaign to re-paint Eastbourne's famous lighthouse.
"Let's hope that with the great weight of popular support in the town, this much loved landmark will be returned to its former glory."