Eastbourne hospital maternity services campaign resumes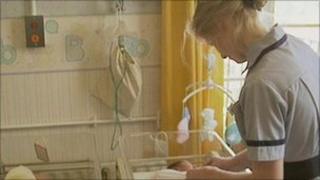 Campaigners in East Sussex say they are resuming their fight to keep full maternity services at Eastbourne District General Hospital (DGH).
Members of the Save DGH campaign demonstrated outside the hospital before the AGM of the East Sussex Healthcare NHS Trust.
The campaign was formed five years ago, which led to consultant-led maternity services remaining at Eastbourne DGH.
The trust says no decisions on the future of services have been made yet.
Stephen Lloyd, Liberal Democrat MP for Eastbourne who joined campaigners outside the hospital, said: "The trust have got to listen to the people of Eastbourne, we can't let this go down the road of non-consultant-led maternity."
'Modern standards'
Darren Grayson, Chief Executive of East Sussex Healthcare NHS Trust, said an independent review of maternity services had proposed a new model of care.
Mr Grayson said: "We are clear that we must change, not just maternity services but a whole range of other services to bring them up to modern standards.
"The review is about securing the best possible services we can, not just for the next few months but for the next five to 10 years."
Any plans to change services are expected to go out to public consultation in January 2012.