Mexican authorities criticised over Sarah Finnis death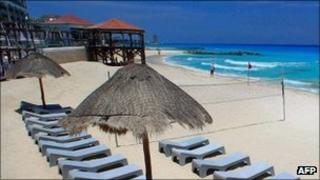 A coroner has criticised the Mexican authorities over the death of a Sussex woman while she was on her honeymoon.
Sarah Jane Finnis, 26, of Eastbourne, died in Mexico in May last year, but the cause of her death remains unknown.
Numerous attempts by the Foreign Office and NHS to get information from Mexico went ignored, an inquest heard.
East Sussex Deputy Coroner Joanna Pratt recorded an open verdict and said the Mexican authorities had been "beyond unhelpful" following the death.
'Treatment delayed'
The hearing was told Mrs Finnis, a student and voluntary worker, suffered from severe rheumatoid arthritis, osteoporosis and chronic iritis - meaning that she was blind in her right eye.
She had also recently broken her leg and had a toe amputated.
She married her husband Richard Finnis on 8 May last year. Before they left for Mexico, she felt unwell and tests revealed she had a high white blood cell count.
Hospital staff wanted to keep her in overnight, but she discharged herself to go on honeymoon at a resort in Cancun.
Mr Finnis told the hearing that by 22 May she could not move her knees.
He said: "She had no lower body strength at all. She was like a piece of jelly."
The resort's doctor was called but took a long time to arrive and then he gave her "five or six" injections, but he would not say what they were, Mr Finnis said.
Mrs Finnis was then taken to the local hospital. Three hours later, it became apparent staff were waiting to confirm she was covered by travel insurance, the inquest heard.
Mr Finnis said his wife perked up after treatment but was later moved to intensive care and then to another hospital.
'Quiet and secretive'
He said: "I wasn't allowed to go with her so we said our goodbyes and that was the last time she spoke to me."
Mrs Finnis died the next day.
Her husband said hospital staff gave him little information.
He said: "They were very quiet, it seemed like they were secretive about what they wanted to tell me."
The inquest heard that before repatriation Mrs Finnis's body was embalmed, which hindered a post-mortem examination.
A statement from Mrs Finnis's GP, Dr David Higgs, said Mrs Finnis may have had an intestinal infection which may have perforated her bowel or caused widespread septicaemia.
The coroner said: "Most countries are very helpful and most countries asked provide any information we want.
"But in this particular case the authorities in Mexico were beyond unhelpful. They provided us with absolutely nothing."
A statement read out on behalf of Mrs Finnis's mother, Anne Hallett, said: "She was a bubbly person and lived life to the full although in a lot of pain most of the time.
"She loved music, fashion and going to concerts with friends. She always made the most of everything and was an inspiration to all who knew her."
'Lawful practice'
A statement from the Mexican Embassy said the embassy in the UK deeply regretted the death and the thoughts of staff went out to her family.
It added: "In regard to Mrs Finnis's body's preparation before her repatriation, it is worth noting that such procedure is carried out in strict accordance to Mexican law and constitutes a lawful and common practice in cases of repatriation."
It said: "We are sensible to Mr Finnis's interest regarding the circumstances in which this regrettable death occurred.
"If he deems any investigation necessary, he may initiate it with the pertinent Mexican authorities."
The statement also said Mexico was grateful for numerous visitors using its resorts each year, it highly valued British citizens, and the government had British tourists' wellbeing at the forefront of its concern.