Brighton ferris wheel construction begins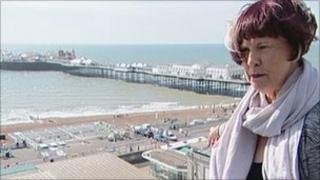 Construction has begun on a ferris wheel on Brighton seafront which could attract 250,000 visitors a year.
Supporters say the £6m Brighton O on Madeira Drive promenade will create 30 jobs and provide spectacular views from the top of the 197ft (45m) wheel.
It is hoped the attraction could be finished and open next month but some residents oppose the structure.
The wheel is in a conservation area near listed buildings. The structure has planning consent for five years.
Resident Audrey Simpson, whose flat will overlook the wheel, said: "This huge wheel, the size of a 12-storey building, is in a conservation area.
"We shouldn't be having a tall building in a conservation area.
"They say the structure is temporary but to me five years to me is not temporary. I may be dead in five years."
Echo success
Brighton and Hove City Council granted planning permission in April for the wheel in the East Cliff conservation area, near Brighton Pier.
The final consent, to allow developers Paramount Attractions to build on Madeira Drive, was given last month.
Developers hope to echo the success of the London Eye which was originally a temporary structure, but has now been in place for more than 10 years.
Brighton's wheel has been shipped from Cape Town, South Africa.
"One of the fantastic things about the wheel is that it's open all year so it stretches out the season for Brighton and Hove," said planning consultant Ian Coomber.
"All the local businesses will have visitors as a spin-off from the wheel during the months of the year when Brighton is not that busy."