Sussex benefit cheat glamour model Dionne Stenner fined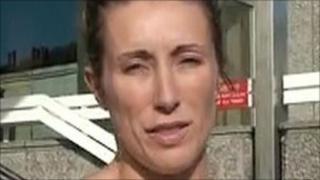 A glamour model from East Sussex who admitted claiming more than £7,000 in benefits while presenting raunchy television channels has been fined.
Dionne Stenner, 29, earned a salary working under the stage name Morgan James while fronting X-rated programmes.
Brighton and Hove Magistrates ordered Stenner, of The Drive, Hove, to pay costs and fines totalling £1,315.
Outside court, the mother-of-two said she was "mortified" by her actions
'Nice family'
She said: "I come from a nice family and this is something that I regret. I have not tried to hide anything."
The court heard she received up to £350 for each night presenting and earned £18,000 working between between March and October last year.
Stenner admitted failing to notify the Department for Work and Pensions and Brighton and Hove City Council about the change in her financial circumstances.
Prosecutor Jessica Clarke said Stenner illegally claimed a total of £7,782 in housing benefit, council tax benefit and income support.
Her crimes came to light after her former boyfriend informed the authorities of the fraud, the court heard.