'Safety improved' at Mill View mental health hospital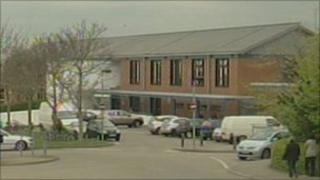 Patient safety has been improved at a mental health hospital where four patients committed suicide last year, according to the NHS trust in charge.
Sussex Partnership NHS Foundation Trust said it had implemented the 30 recommendations of an independent review into Mill View Hospital in Hove.
The four patients, aged between 22 and 41, died between March and October.
Director of Nursing Helen Greatorex said the trust commissioned Dr Colin Dale to investigate the hospital.
He found that patients were staying at Mill View for an average of 51 days compared to the national average of 32 days.
'Lack of housing'
The hospital had patient Awol rates 15% to 20% higher than the national average, which was identified as a "significant factor in serious and untoward incidents".
Dr Dale's report also said junior and inexperienced staff were supporting the most complex and acutely ill patients and that patients needed more activities.
Another key finding was that as many as 10% of Mill View patients were there because of a lack of housing.
Ms Greatorex said lack of activities for patients was linked to the high absency rate because boredom could be a factor in people leaving.
"Colin Dale's report helped to sharpen our focus on the things we needed to concentrate on," said Ms Greatorex.
"All the wards had activity programmes.
"But we also had a high absent-without-leave rate and if you started looking at when those absences occurred and the activities programme you could start to see links."
'Challenging place'
She said staff training had been "revitalised" so the most vulnerable patients received care from the most appropriate staff.
Ms Greatorex added that lack of housing forcing longer hospital stays was a national problem but the trust had been working with local councils and housing associations to make improvements.
"One thing that is helping is starting to plan with the person for their discharge the moment they come in to hospital and not waiting until we are on the verge of thinking they are ready to go home," she said.
Mill View nurse and Unison union rep, Peter Atkinson, said the environment at the hospital had "vastly improved".
"There has been a lot of building work," he said.
"The wards have changed around a little but it is quite a challenging place to work.
"People are admitted at quite high levels of acuteness in terms of their mental health problems."