Ship runs aground at Littlehampton Harbour entrance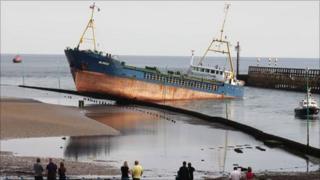 A ship laden with gravel has run aground in the entrance of Littlehampton Harbour in West Sussex.
The coaster vessel, Mungo, became stranded in the mouth of the River Arun at about 1500 BST on Wednesday.
A coastguard rescue team, Shoreham RNLI lifboat and a tug boat have been sent to the scene. None of the four crew and two pilot staff have been injured.
Littlehampton Harbour Board said they would attempt to refloat the ship at next high water on Thursday.
Alan Waters, of Solent Coastguard, said: "There are four crew and two pilots on board the vessel.
"None of them have sustained injuries and all will remain onboard for the time being.
"Once the tug has arrived on scene we will reassess the situation in conjunction with the Littlehampton Harbour Master."
A spokeswoman for Littlehampton Harbour Board said: "At the time of the incident, the vessel was making a routine entry to Lton [Littlehampton] Harbour and first indications are that she may have suffered a possible failure of her steering.
"Currently the entrance is partially blocked but navigable with care.
"Attempts will be made to refloat the vessel at the next high water."