Brighton and Hove's homeless numbers nearly double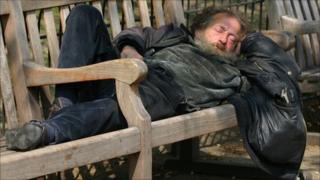 Rough sleeping has nearly doubled in the seaside city of Brighton and Hove, but what are some the causes behind this increase?
Figures obtained from Sussex Police show there were 42 rough sleepers in November last year, compared with 72 this April.
The increase has been blamed on a variety of reasons, a housing shortage, unemployment, drugs and a more permissive social culture in the city.
There are also rumours a purge of rough sleepers in London ahead of the 2012 Olympics, has resulted in homeless people being pushed southwards towards Brighton.
Although this has not been officially confirmed, Adrian Walters, who has been sleeping rough in Brighton since February, said he was moved on from London.
"I was just being harassed all the time," he said.
"I used to sleep in the subway and I had been there for a long time. They [council workers] were just coming down every night, waking us up at two in the morning and washing it [the subway] down.
"They were coming down, two council guys and about five police officers, so it was total harassment."
Many local people blame the perceived wide range of services on offer to homeless people in Brighton as a cause for the city attracting rough sleepers.
But Sergeant Richard Siggs, from Sussex Police, who is in charge of helping the street community in Brighton and Hove, believes this is a myth.
'Blend into the background'
"For some people it might be a reason, but it's not a general rule," he said.
"The city culture is one of the things that draws them in as they can blend into the background.
"They generally don't come here for support, but to enjoy the life Brighton, rightly or wrongly, has to offer."
He said the backgrounds of those who become rough sleepers also varies.
"We have ex-military on the streets, guys who have served their country and just couldn't cope with life outside," he said.
"We've people on the streets who have just been though chaotic life experiences, like losing their family in car accident, and that could happen to anyone."
Bill Randall, who is the leader of Brighton and Hove City Council, denied the city was a "soft touch" for homeless people, but said it was one of several places in the country where the homeless gravitated.
He added that there is an increased pressure due to the struggling economy.
"It's a real problem," he said. "There are local people who find it very difficult to find anywhere to live, because of the current housing shortage in the city and because it's difficult to get a mortgage and rents are very high.
"The whole system is clogging up."