Hastings Pier owners issued with urgent works notice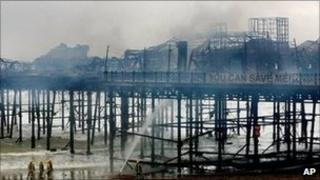 The owners of a Sussex pier have failed to respond to calls to stabilise the structure, and have been issued with an urgent works notice.
Hastings Borough Council will now start work on the 140-year-old Hastings Pier which it says is in danger of collapse.
An English Heritage grant of £100,000 will fund the cost of the work.
The council said the Panamanian-registered owners were responsible for the pier, but had failed to respond to an urgent works warning notice.
'Never responded'
Hastings council said it had sent the owner Ravenclaw a letter on 4 July giving it 14 days to give a reassurance that the work would be done.
"They have never responded to us about anything," said a council spokeswoman.
Work is to start in the next few days to stabilise the most vulnerable parts of Hastings Pier, which was damaged by fire in October.
Councillor Peter Chowney, from Hastings Borough Council, said: "This is a vital first step towards safeguarding the future of Hastings Pier.
"The funding from English Heritage will allow us to stabilise the pier, helping to safeguard it until the major restoration work can begin."
The Heritage Lottery Fund has given a grant of more than £8m for the restoration of the pier.
A council spokeswoman said: "Once the work has been completed we will service a repairs notice on Ravenclaw, which is the first step in the CPO [compulsory purchase order] process."