Guitarist Jeff Beck receives honorary degree in Sussex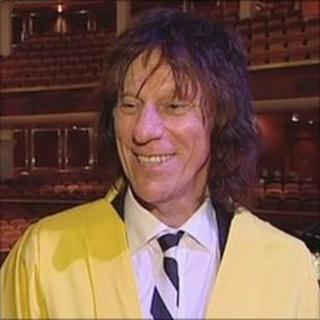 British guitar legend Jeff Beck has been awarded an honorary degree from the University of Sussex for his "outstanding" career in music.
The 67-year-old joined hundreds of graduating students at the Brighton Dome in Castle Square for the ceremony.
He told the audience he was "truly grateful for this unexpected honour".
Beck, who was born in Wallington, south London, has won six Grammy awards and has been inducted twice into the Rock and Roll Hall of Fame.
He received his award from the comedian and actor Sanjeev Bhaskar, who is the university's chancellor.
The university said the honour acknowledged "an outstanding musical career and celebrated the relationship between the university and the Brighton Institute of Modern Music (Bimm)".
'Follow dreams'
Beck, who found fame in the 1960s with the Yardbirds and has worked on albums with Mick Jagger, Stevie Wonder and ZZ Top, has inspired generations of musicians through his links with Bimm.
He told the graduates: "If you dream of something you really like to do then I suggest you follow it.
"It's not about the money. It might be as elusive as the rainbow. Just stick with your dream even if it's not as rewarding financially."
Bruce Dickinson, Bimm education director, told the audience: "Impossible to categorise into a single genre, he is regarded as a ground-breaking artist who has a combination of technique, innovation and breathtaking musicality and has left an indelible mark on everything from rock to jazz fusion to rockabilly to techno during his career that now spans more than 40 years."
Beck's manager, Harvey Goldsmith, added: "He has inspired generations of young guitarists and is delighted to be recognised for his work."