London 2012: Sussex businesses hope for Olympic boost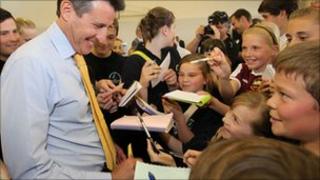 With one year to go until the London 2012 Olympics, businesses in Sussex are being urged to be as creative as possible to benefit from the games.
Gatwick Airport has been identified by West Sussex County Council as a prime location to promote South East tourism to visitors arriving in the UK.
And Sussex Enterprise is advising shops and bars to plan as if for a World Cup.
"It is so exciting," said Gill Edinburgh, director of operations for Sussex Enterprise.
"Businesses will be out to exploit it for everything it is worth."
Ms Edinburgh said some businesses in Sussex had won contracts for the Olympics, such as Icon Live in Burgess Hill, which is supplying official memorabilia including key rings and badges.
"There will be Sussex businesses which will do very well, but it will be quite specific," she said.
"Bars and pubs can think about tie-ups with particular events, and if we get a Sussex-based athlete who does well, people will want to jump on that bandwagon.
"But local transport, for instance, will not benefit because the Olympics is in London, not here."
Crawley's K2 leisure centre will be the training base for the Barbados and Dominican Republic Olympic teams and the Finnish Paralympic squad.
The centre will stay open throughout the teams' preparation and the public will be invited to watch open training sessions.
"It is fantastic for us to have teams which will allow us to keep the building open," said centre manager Chris Lovelock.
"We might have to close down a couple of lanes of the swimming pool for training, but we can have the community using the rest of the lanes."
He said it was not yet known how many athletes could be coming to Crawley but he hoped they would visit local schools.
"There has been a very positive reaction so far," said Mr Lovelock.
Tandbridge House School, in Horsham, had a visit in May from London 2012 chief Lord Coe and Olympic athletes including Horsham handball player Mark Hawkins.
"The big legacy for us already is the enjoyment sport can give," said head teacher Jules White.
"It made the whole thing come alive."
Children from four primary schools and seven other secondary schools from West Sussex took part in a day of sports and activities which culminated in a re-enactment of the courtyard scene from the 1981 film Chariots of Fire.
A second special day is being held on 23 September, when 14 Paralympic athletes will be visiting the school.
Mr White said he believed students would carry memories with them through the rest of their school careers and into adult life.
"We are trying to bring out the best elements of the Olympics and show that you can get real pleasure from team events.
"It is about staying fit, being healthy, volunteering and good ethical behaviour.
"We think that in our own small way we are making a difference for the future."