Chichester students donate food to homeless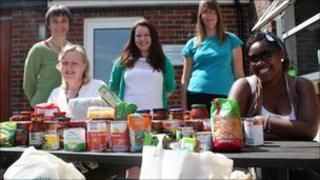 Students in West Sussex have donated large quantities of tinned and packaged foods to charity at the end of their academic year.
The University of Chichester students donated the food at its Bishop Otter and Bognor Regis campuses as they prepared to return home for the summer.
The Students' Union and Green Campus Group handed it over to Chichester homeless charity Stone Pillow.
It will use the food for its St Joseph's night refuge in Hunston Road.
Students' Union vice president Celica Douglas said students wanted to cut down on waste at the end of the academic year, when a lot of waste was sent to landfill.
"Amazing progress has been made from two years ago, when the majority of waste was binned," she said.
"We are now making small but sure steps towards a greener campus."