Bognor homes damaged as storm hits town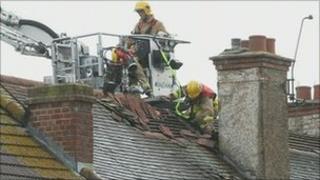 Firefighters have been called to assess damage to roofs of homes in West Sussex after heavy storms swept through the area.
West Sussex Fire and Rescue Service said houses in Linden Road, Dorset Road, Highland Avenue and Murina Avenue, Bognor Regis were damaged.
Emergency services received reports of falling and damaged roof tiles following the storm at 0930 BST.
A fire services spokeswoman said there were no reports of injury.