Hove bookmakers staff threatened 'with gun'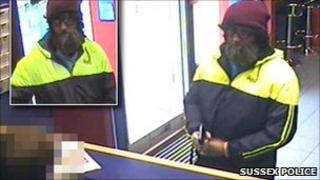 Staff at a Sussex betting shop were threatened by a man with what looked like a black handgun, said police.
The man went into William Hill Bookmakers in George Street, Hove, at about 0825 BST and left a few minutes later with a set of keys.
He headed up George Street and was last seen jogging towards Blatchington Road.
He is described as wearing black clothes, possibly a track suit with yellow shoulders and yellow stripes on the sleeves, and a fake beard.
He had a burgundy woollen hat, thick rimmed glasses and was carrying a black Umbro sport bag with the company's name and double diamond logo in gold.
Nobody was injured in the attempted robbery.