Bishop of Chichester Dr John Hind to retire in 2012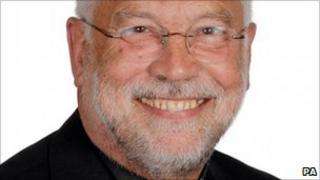 The Right Reverend Dr John Hind has announced he will retire next year as the Bishop of Chichester.
Dr Hind, a married father-of-three, has led the diocese since taking over from Bishop Eric Kemp in 2001.
Dr Hind said he thought the time was right for a new bishop to take over but he would continue to serve as a priest.
Last month, Dr Hind apologised for the church's past mistakes in failing to stop the abuse of children by a paedophile priest in the 1970s and 80s.
'Time is right'
A review found significant failings in the church which ordained Roy Cotton, despite him being convicted of child abuse.
Dr Hind attended Watford Grammar School and then studied theology at Leeds University before going into teaching.
During this time he explored priesthood and later applied to train for full-time ministry before being ordained at Southwark Cathedral in 1972.
He said: "Although I shall miss the parishes and people of the diocese very much, as I shall be nearly 67 I think the time is right for a new bishop to take over.
"I am looking forward to an opportunity to continue to fulfil my ministry as a priest without the particular responsibilities of leading a diocese."