Brighton Pier put up for sale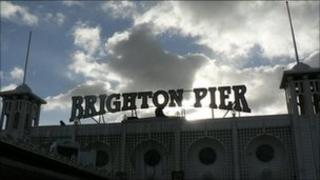 Brighton Pier, one of the south coast's most famous landmarks, is up for sale.
Owners the Noble Group, who took over the grade II* listed building in 1984, say they are ready for massive interest in the attraction.
The pier has two amusement arcades, funfair rides, bars and a restaurant.
The share capital in the Brighton Marine Palace and Pier Company, established by a 1988 Act of Parliament, is also being sold.
David Biesterfield, Noble's development director, said: "We anticipate a great deal of interest in the sale of this world renowned asset."
Work started on the construction of the 1,760ft (533.3m) pier in 1891 and cost £27,000. It was opened in May 1899.
In May 1940, on the War Office's instruction, part of the pier was dismantled as it was seen as being of potential use to forces invading from the sea.
During a storm in 1973, the pier was damaged by a barge which had broken loose from its moorings, and it suffered limited damage in a fire in February 2003.
Noble's investment of about £35m in the pier has made it one of the UK's largest privately funded conservation projects.
At the height of the tourist season, the pier employs around 300 people.